Don Wildsmith
Board of Directors: Board Member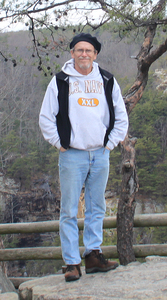 Don is the last remaining Founding Member of the Winder-Barrow Community Theatre & previously served as President for four years. Retired from the U.S. Navy after over 30 years, he holds degrees from the University of Georgia, The George Washington University, and the Georgia Technical College System.
While in the Navy, he traveled extensively and has been able to design, direct, tech, stage-manage, and/or appear in dance, stage, television, and film productions literally world-wide. In 2004, he served as Technical Director as well as Stage/Road Manager for an extended U.S. State Department Exchange Tour to the People's Republic of China with University of Georgia's "Core Concert Dance Company".
He is frequently called upon as a designer, guest lecturer and/or technical consultant for theater and performing arts groups throughout the Southeast.
As the WBCT's resident set designer, Don has designed the set for every Main Stage show since WBCT opened its doors - as well as serving as Technical Director, House Carpenter and House Electrican.
In 2006, the Barrow County Chamber of Commerce presented him THE COMMUNITY SERVICE AWARD for his work in bringing live theater and the performing arts to Barrow County. From 2007 until 2015, Don served as the City of Winder's Cultural Arts Director and as the Facilities Manager for the Winder Cultural Arts Center.
A long-term member of the Barrow County Chamber of Commerce, the Barrow Community Foundation and Winder First United Methodist Church, Don is a Life Member of the Military Order of the Purple Heart, the Disabled American Veterans, and the U. S. Institute for Theatre Technology (USITT).
Additionally, he is an inductee into Alpha Psi Omega - The National Theater Honor Society and is proud to be a Partner in Education with the Barrow County Schools.
In January of 2018, Don joined the Board of Directors for the State of Georgia's Humanities Council.
He and his wife Dana; a poet, essayist, novelist, educator & 2011 Georgia Author of the Year Finalist; live on a 40+ acre family farm in Bethlehem, GA with two generations of family, two dogs and five farm cats.